A young-19 year old wicket-keeper batsman from Patna ,Ishan Kishan was taken off the fields after a throw from Hardik Pandya hit his right eye and was badly injured.Aditya Tare was called out to replace Ishan Kishan in the match who captains Mumbai in domestic matches.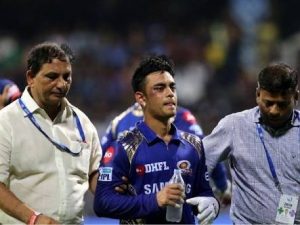 During  the match between Mumbai Indians and Royal Challengers Bangalore on tuesday,Mumbai Indians wicket-keeper batsman Ishan Kishan was doing wicket keeping.In the 13th over of the match,Hardik Pandya throw the ball towards him which bounced off high and hit him near his right eye area.
He was crying in pain,laying on the ground.He was immediately taken off the fields with his swollen eye and was replaced by wicket keeper, Aditya Tare.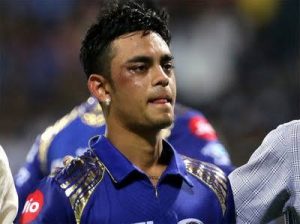 Ishan Kishan was lucky that the ball did not directly hit his eye.Otherwise, it could have been worst for his career.There are many world class cricketers those who have to leave their cricketing career after suffering from serious eye injuries.Ishan Kishan was hit near his right eye and his injury is not very serious.We can hope that he will come back on the field immediately after his recovery.