*Kolkata Knight Riders vs Royal Challengers Bangalore: KKR beat RCB by four wickets.*
RCB-176-7(20 Overs)
KKR-177-6(18.5 Overs).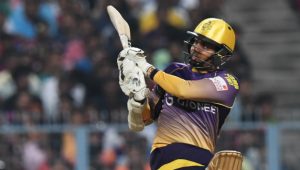 In the 3rd match of Vivo IPL 2018, KKR started the tournament with a win over RCB at the Eden Gardens, Kolkata. Sunil Narine's 50 from just 17 balls never gave RCB any chance to come back in the match again and KKR easily beat RCB by 4 wickets.Though RCB was a very decorative team with some of the finest players of the world but then also they could not perform well. Brendon McCullum was in good touch and he hit three 4s in the first over of Vinay kumar.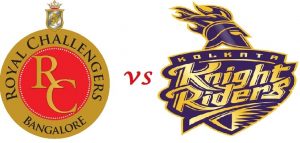 The openers Brendon Mccullum and Quinton de cock gave a quick start to the RCB inning. But they both were dismissed from successive balls by Kolkata's spinner Nitish Rana who performed very well .He took 2 wickets for 11 runs and broke the partnership of 64 runs between Brendon Mccullum and Quinton de Kock. AB de Villiers made 44 runs and Virat Kohli scored 31 runs. RCB put up a total of 176 runs.
When KKR came to bat, Sunil Narine once again came as an opener and smashed a 17 ball half century and put RCB on backfoot. He was bowled by Umesh Yadav(2-27) but give a superb start to the KKR inning. Chris woakes took 3 wickets for 36 runs but Dinesh Karthik 35 not out secured the first win for the KKR in the tournament. Nitish Rana scored 34 runs and Andre Russell contributed 15 runs in the KKR's win.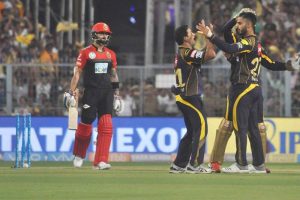 In the first inning RCB got a good start from its opening pair Brendon McCullum(43 off 27 balls) and Quinton de Cock. After that Virat Kohli and Ab de Villiers were also in good touch.In the 15th over RCB were 127-2, but they could not convert this into a huge total.At the score of 23 AB de Villiers was given out when he was caught behind the Wicket on a delivery of Mitchell Johnson but he over turned the decision with the help of DRS but soon after that he was caught out at long on. Soon after him Virat Kohli also lost his wicket on a yorker delivery.Mandeep Singh(37 off 18) played an useful inning in the last overs of the RCB's inning. Finally RCB inning was ended by Vinay Kumar(2-30) when he took Mandeep Singh's wicket and Chris Woakes who scored 5 runs.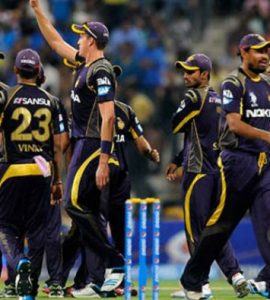 KKR started their journey with a win and they will try once again to win the 'title'.
Overall, this was a fantastic match and all the expectators at Eden Gardens and all over India enjoyed the match .Although RCB lost this match but it is a very good side and they will come back and we can expect for a very exciting thrilling and entertaining tournament.